By understanding and properly utilizing our canine's drives and behaviors, we can unlock their potential as a pet, a working partner or as a K9 student in a dog training business.
I trained and handled dogs at the highest level of search and rescue and deployed on some of this nation's greatest disasters with my K9 partners.  My success was based in part on my understanding of K9 Drive and Behavior.
With this course, you too will be on the path of mastery of K9 Drive and Behavior.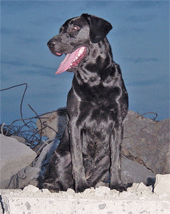 ---
First, a few assumptions …
There is no authoritative or 'final word' on dog training.  Different trainers, handlers, behaviorists, psychics, etc. all may have a different approach to understanding and training a dog.  This course represents my best practices after training and handling nationally certified search and rescue dogs.  While some topics are supported by science, some are not.  Find what works for you.
The reference to "dog", "K9", "canine" and "Fido" all mean the same thing.
The reference to "prey" refers to the dog's desired object, i.e. food, toy, helper, squirrel, etc.  Few dogs these days actually have to go kill their own food, so the "prey" reference is all-encompassing.
---
In the first lesson, we'll discuss the five (5) different drives that every dog possesses as well as what drives are and how to to use them to your advantage.  Every successful handler has a clear understanding of how to 'work their dog in drive' to maximize performance and now it's your turn.
Each drive is broken down into separate topics that provide pictures, videos, and simple explanations.
In the second lesson, we'll discuss the subtle and not-so-subtle K9 behaviors that reveal significant clues if we know what to look for.  Mastering this knowledge can unlock the potential for an amazing and productive relationship with our K9 partners.
The most prominent behaviors are discussed in separate, multi-media topics.
Let's begin!